Kadin and Pioneer Companies Pledged Important Commitments Towards Regenerative Forest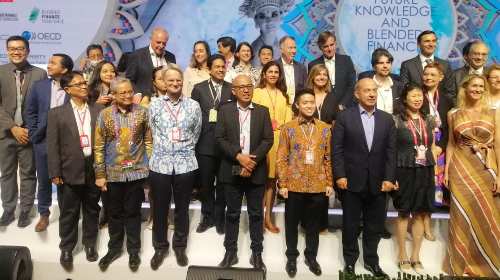 Nusa Dua, Bali 15 November 2022 — Indonesian Chamber of Commerce and Industry (KADIN Indonesia) and Host of B20 together with Packard Foundation organized discussions around opportunities in Regenerative Forestry Business at the Tri Hita Karana Forum, a sideline G20 event. The event titled "Regenerative Nature, Food, and Forestry Business Session" showcased presentations around new investable business opportunities in forestry sector, as well as concrete pledges from business community towards investing and implementing in regenerative forestry business. The event was attended by representatives
of the Ministry of Environment and Forestry, Corporates, Policy Makers/ Government, Philanthropies, Investors, Think Tanks/Academia, NGOs.
The day demonstrated private sector commitment and response towards Indonesia's forestry policy. Since the Law No. 11/2020 on Omnibus Law and the Government Regulation No.23/2021 on Multiuse Forestry Business (Multi Usaha Kehutanan) were launched, Indonesia's forestry businesses have the opportunities to diversify their business and move away from timber-based business. It also marks a transformation in the forestry sector in Indonesia where business to contribute further to social, economic, and environmental goals of the country, including Indonesia's FOLU Net Sink Target in 2030.
In response to the policy and in contribution the FOLU Net Sink target, KADIN Indonesia has launched an initiative called Regenerative Forest Business Hub (RFBSH) in April 2022. Together with Asosiasi Pengusaha Hutan Indonesia (APHI) and Indonesia's Ministry of Environment and Forestry, the Hub aims to facilitate companies to implement diversified, multi-purpose, and regenerative forestry businesses. It is expected that this program enables the capacity building of companies to become ready and take immediate action in implementing the multiple forestry businesses.
"Regenerative Forest Business Hub is the business sector's response to the government's policy direction on Multiuse Forestry Business and FOLU Net sink 2030. We believe Regenerative Forest Business is a new investible sector in forest economies: it goes beyond sustainability and actively renews landscapes. Regenerative business is the future, where the forest entrepreneurs will see in regenerative businesses – not just for profit, but also for social and environmental goals" said Soewarso, Deputy General Chairperson for Sustainable Plantation Forest Production, APHI.
Since the launch of the Regenerative Forest Business Hub, various studies have been undertaken to study the business opportunities in regenerative forestry as well as financial analysis and models to cover the costs. The insights from the studies were shared on this event.
"Indonesia has a potential 20 million hectares of land for regenerative forest business. The potential contribution from regenerative forestry sector is huge coming from commodities such as coffee agroforestry, cocoa agroforestry, vanilla, palm sugar, and essential oil. Exposure to market opportunities of regenerative forestry best practices could motivate
stakeholders to implement, invest and support this initiative." said Syaiful Bachri, Business Specialist, Lembaga Ekolabel Indonesia, lead study of the business opportunities.
"Some financial institutions have expressed interest to support regenerative forestry business. However, they need certainty on market risks, reliable supply chain, proven featured commodities credible and cooperative business actors, and support from regulators" said Herianto Pribadi, Senior Advisor, Bicka Consulting, lead for financial analysis.
The studies and KADIN Indonesia's initiative were welcomed by various stakeholders.
"We see this initiative as very much aligned with Indonesian Environment Fund. Regenerative forest business could inform the next plan for the Fund, showing real first step commitment from the private sector to contribute to climate actions, but more will be needed to assure success of 2030. IEF look forward to see real and tangible support from the private sector, IEF as a public agency (BLU) will always endeavor to support and assist such a positive commitment" said Budi Martokoesoemo, Professional Consultant, BPDLH.
"Indika Nature is keen to be part of the regenerative forest business. We have been starting to explore these businesses in our own operations and invite more companies to pledge towards investing/implementing in regenerative forestry. Indika Nature is ready to be a pioneer in regenerative forest business" said Leonardus Herwindo, CEO Indika Nature.
A regenerative approach to managing a production forest holds strong promise for sustainable development, carbon and nature. Pioneering work now needs to be done to develop business and investment models that cater to multi-crop production systems said Nienke Stam, Global Sustainable Finance Landscape Director, IDH.
"What needs to be done is clear, implementing this multi-use business concept requires stronger investment for local micro processing facilities, incubators, innovation centers and marketing centers for sustainable products at district and sub-district level. This type of ecosystem building will allow real multistakeholders collective action for sustainable landuse to happen' said Gita Syahrani, Head of Secretariat, LTKL.
KADIN Indonesia is inviting more pioneer companies to involve and implement regenerative business. Starting in 2023, KADIN Indonesia hopes the implementation from pioneer companies could take place. Implementing regenerative business and Multi Forestry Enterprises is an adaptive strategy to the current dynamics on biogeophysical social and environment. Moreover, it is a form of active participation of the forestry business community in supporting the achievement of Indonesia's targets, including NDC target in 2030 and the country's GDP.
KADIN Regenerative Forest Business is also one of the accomplishments of the Chairman of KADIN, M. Arsjad Rasjid P.M. in encouraging business participation towards government efforts in climate change mitigation actions in order to achieve the Nationally Determined Contribution (NDC) target inclusively and collaboratively.

Indah